April 23, 2014
FOR IMMEDIATE RELEASE
Contact: Kath Cummins
kcummins@ncvc.org
Today the Supreme Court unambiguously affirmed the right of victims of child pornography to receive restitution. But the process by which restitution is collected remains extremely difficult and burdensome for the victims. Congress must act to bring clarity and lift the victim's heavy load.
In light of today's decision in Paroline v Amy Unknown, the National Center for Victims of Crime calls on Congress to re-draft the statute to ensure that victims get just and fair restitution. Justice requires that we shift the burden of collection, which is currently on the victims, on to those who participate in this illegal trade.
"The Supreme Court has stated 9-0 that child pornography is not a victimless crime and that this harm creates a right to restitution. Congress must step up and provide victims with a roadmap to enforce that right," said Mai Fernandez, Executive Director of the National Center for Victims of Crime.
"We must ensure that all who participate in this shadowy global marketplace market are held responsible for the harm it causes," said Ms. Fernandez. The Supreme Court has acknowledged that those who trade, share and download child pornography are responsible for the restitution owed to the victims. It is now up to Congress to provide clear guidance to court on how victims can enforce this right of restitution without placing an undue burden upon them."
As well as bringing much needed public attention to the plight of child pornography victims, the Amy Unknown case was a landmark for crime victims because it was the first Supreme Court case where the victim was represented by her own counsel.
National Crime Victim Bar Association attorneys Paul Cassell, a former federal judge, and James Marsh, a New York based trial attorney and head of the Children's Law Center represented Amy Unknown. NCVBA attorney, Carol Hepburn represented another victim of child pornography whose claim for restitution in a different jurisdiction had been held over pending this ruling by the Supreme Court.
Victims of child sexual abuse can suffer from depression and anxiety; many attempt suicide or are unable to maintain relationships or employment over their lifetimes.
The marketplace for child pornography makes recovery from this kind of abuse particularly difficult. Victims know that their images continue to be used and traded for sexual gratification, and this may go on forever. Many fear being stalked by or recognized by viewers, and in some cases victims have been stalked and recognized. Many suffer from crushing guilt knowing that that their images will be used to groom new victims, or to persuade consumers of child pornography that child rape and abuse is enjoyable for the victim.
MORE INFORMATION:
The National Center for Victims of Crime and the National Crime Victim Bar Association Supreme Court amicus briefs in support of the victim "Amy Unknown" are available here:
National Crime Victim Law Institute Amicus Brief
National Crime Victims Bar Association Amicus Brief
For the reaction to the decision by the victim, Amy Unknown: Disappointment at the Supreme Court – Amy's Reaction
National Center for Victims of Crime is working to improve the response to victims of child pornography through a project funded by the Office for Victims of Crime, U.S. Department of Justice. The National Center and its partner organizations, the National Children's Alliance and the University of New Hampshire's Crimes Against Children Research Center, has been hearing directly from victims and their families—and the professionals who work with them—about their needs and the barriers they face in finding or accessing services. This important and sensitive work will identify promising treatments and policy responses to promote the recovery of child pornography victims.
---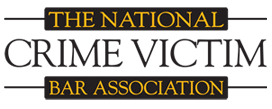 The National Crime Victim Bar Association is an affiliate and program of the National Center for Victims of Crime. It was founded in April 1999, creating the nation's first professional association of attorneys and expert witnesses dedicated to helping victims seek justice through the civil system. Crime victims deserve compensation for the harms they have suffered, and third parties are increasingly held accountable through the civil justice system.
The NCVBA attorney help line is (212) 467-8716.